AD provides specialized drone training packages to elevate you and your team.
INDIVIDUAL PRIVATE TRAINING
Great for recreational or small businesses looking to use drones in their skillset. Tailored 1-on-1 flexible training.
INSTRUCTORS
Our unique team of qualified UAS Instructors are Part 107 Certified and AS9100 Certified Internal Auditors. Instructors have successfully demonstrated their knowledge and skills in multi-rotor and fixed wing assembly, manufacturing, repair, operating commercial sensors and specific UAS platforms.
DRONES 101 – BEGINNER TO ADVANCED TRAINING
Training aspiring drone operators on the basic fundamentals of drones. Individuals from companies, recreational, or students, have the chance to learn all about the drones in an intensive study. Students will learn the basic principles of drone safety, checklists, orientation, operations and maintenance before advancing onto industrial drones. FAA Part 107 rules and regulations may be addressed, but not the main focus. Students are expected to build and fly the drones they will assemble.
INQUIRE
CORPORATE TRAINING
Tailored to specific company parameters. Good for group trainings. Includes drone processes and development to incorporate company-specific needs.
INDUSTRIAL DRONE TRAINING – PART 1
Designed to be an introduction to industrial drones and the work associated with certain drones. Some FAA Part 107 material may be covered in order to provide a full scope of understanding in the world of industrial drones, but we recommend the Part 107 Training Course in order to prepare for the FAA PArt 107 certification exam. Students are expected to learn how to operate, assemble, troubleshoot, and fly an industrial drone in executed work-based exercises for any work-based missions.
INDUSTRIAL DRONE TRAINING – PART 2
Advanced training and continued understanding of drones and special drone sensors. Focus will be on the specific drone, its applications through the various types of drone sensors, and processing data post-flight. From agriculture, to mapping, to inspection, students are expected to have a general understanding of the drone data collection.
SIGN IN
---
SPECIALIZED & CUSTOM TRAINING
---
SPECIALIZED TRAINING
Highly comprehensive training focusing on learning all about drones in an intensive course from beginner to advanced. Students will be in an immersive learning environment that will gear towards rapid memorization and understanding of several important drone concepts, drone flights, and drone practices. Other drone platforms may also be introduced.
CUSTOMIZED TRAINING
Please contact us to discuss your training needs. We have various drones for different types of work, missions and training.
PART 107 TEST PREPARATION COURSE
Become a Certified Drone Pilot Today! Action Drone and Altitude University have partnered up to provide you an online training platform assisting drone pilots to acquiring their Remote Pilot Certificate (FAA Part 107 License).
If you are flying drones commercially in the U.S. for your company or business, or for side-gig income, the Federal Aviation Administration (FAA) requires you to hold a Part 107 License.
The curriculum is designed and developed by drone industry professionals to assist you in passing the Part 107 Exam on the first try!
---
---
Part 107 Test Prep Course includes:
An Interactive Online Part 107 Test Prep Experience
Self Paced Curriculum Available 24/7
Lifetime Access & Updates
Video & Text Lectures
Over 200+ Real FAA Exam Questions
Graded Quizzes
Customer Support
PLUS: Bonus Guides


New Drone Pilot Guide
The Complete Guide To Starting A Drone Business
Step By Step Guide To Obtaining An FAA Daylight Waiver
Extras: How To Schedule Your Exam, Register Your Drone, Tips & Tricks and more!
$199.00 USD
$129.35 USD (Save 35%)
Remote Pilot Renewal; Recurrent Exam Prep
Recurrent Knowledge Prep.
Interactive Curriculum
Practice Exam Questions
Real FAA Practice Exams
---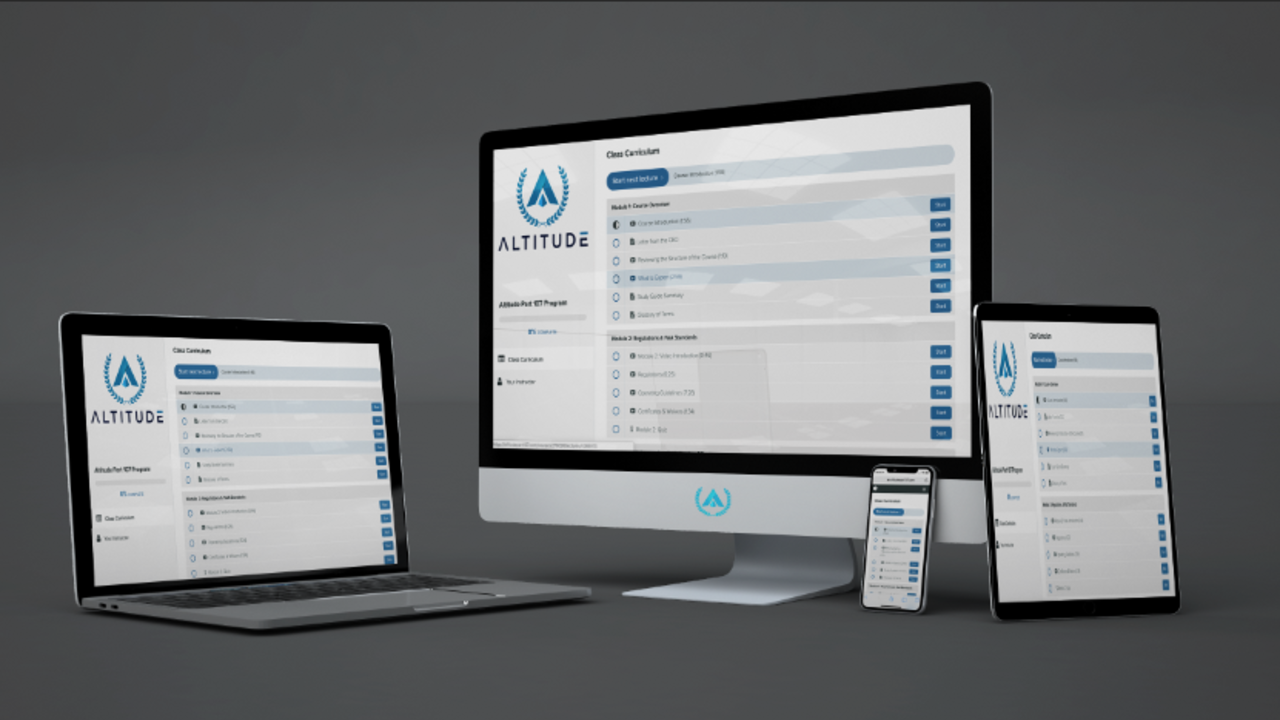 YOUTH CLASSES

Youth-focused drone classes that emphasize early robotic and STEAM education. Students are able to have a quick class session learning the basic fundamentals of the drone in a fun and safe environment. Students do not need any previous drone knowledge and is intended for beginners.
ADULT CLASSES

Drone educational classes for beginners looking to understand more about the drone and all the parts and components. Classes are geared towards understanding basics of the drone as well as the basics of flying. Classes are focused on building and flying.