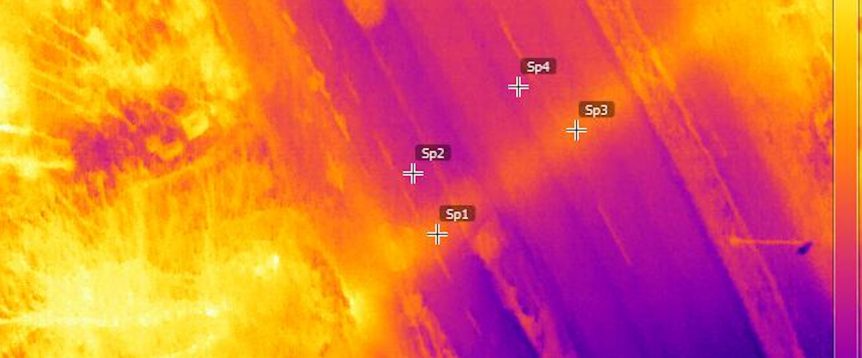 Case Study: Thermal Mapping Project
Synopsis
It was a cold winter night in Aalborg, Denmark. The climate was unusually colder this time around. The local government needed help saving money on heating leaks, so they hired a non-profit company. This company knew they had a big task ahead of them, so they reached out to us at Action Drone.
A central heating unit heats up entire city made up of 150 acres. This large plant pumps specially treated high pH hot water into the underground pipes and into each home. The pipes carry higher pH levels and low acidic water. This treated water helps keep the pipes clean and homes warm during the winter.
Unfortunately, underground pipes tend to erode and shift underneath the sediments. Over time, damages cause the underground pipes to leak. This costs the city a lot of money over time.
During the winter, detection is easier to locate steam escaping near a hot water boiling point. There is a biggest difference in temperature changes for significant and small leakage.
The city's biggest issue is high costs and energy to pump the water. Can you imagine? The amount of escaping steam could actually fill up one swimming pool! Slow escaping steam leaks are invisible to the naked eye. On cold winter nights, escaping steam tends to heats up the environment around it – the earth, asphalt, trees, and roads. By using aerial drones with thermal camera sensors, we were able to locate the variables and escape steam. This helped the city know where to repair pipe damage and save money!
Getting To Work
To begin, our drone pilots, surveyors and technicians had to map out multiple logistics, maps, briefings, data gathering and post-analysis – we knew a lot of work was ahead. Don't forget, it was COLD! The weather is unforgiving and the streets were dark. Working in the field, we have the elements to battle.
Some may ask, why not operate drones during the day? It would have definitely been easier to see the roads, be warm and navigate during daylight. During the day, the sun can create anomaly hotspots, causing shadows to deter data, and sometimes resident bystanders can interfere with flight operations. So for this mission, we needed to capture uniformed temperatures to compare with similar uniformed data temperatures at night.
So we set out a plan and mapped out flight missions, operations and logistics. After an accumulated 5 hours of pre-planning, we bundled up to brace the cold in the middle of the night, worked 3 nights manually flying a drone with a 640 FLIR R radiometric thermal camera.
Technicians controlled traffic logistics surrounding the pilots. We didn't anticipate aggravated residents for a team of 4 to control planned operations. It was the middle of the night! Who would have thought people would be awake so late at night – or early in the morning – depending how you look at it? Quickly we had to educate residents that the drone work would help reduce city costs and keep their homes warm in the winter. Soon they stopped complaining – we had them at the words 'saving money'.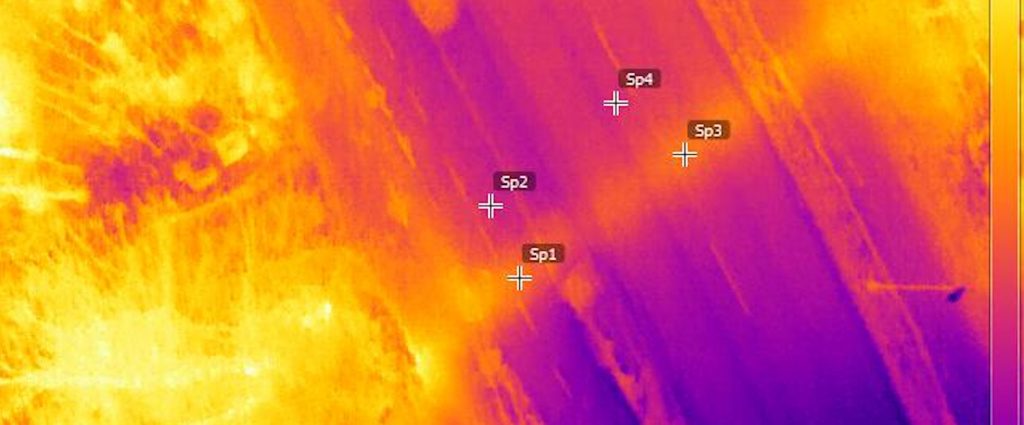 Our Analysis
In a matter of 5 grueling nights and slow controlled flights, we were able to map out the entire city that included 30 km of pipes!
Because we couldn't set the thermal camera at a wide angle, there wasn't enough overlay for the final mapping. The overheating sensor also produced some offset parameters. So our pilot customized some software that could calculate directories of coordinates and overlay Google Maps photos. The results produced severe to mild hotspot anomaly reports based on category levels.
The final reports produced 5,000+ photos into a combination of Pix4D maps and RAW data, totalling an unforeseen total of 30 hours post-processing!
In conclusion, if we used an automated cooling FLIR Duo camera, we could have produced faster results. Strict regulations in this country held back an autonomy factor we could have served. Calculated autonomous flying would have made flight planning and logistics a lot easier.
But overall, the city now has comparable data where their pipes require maintenance and repairs to better serve their residents in their cold, cold winters!
---
Note: Do not attempt this mission without the proper government issued licensing, permissions, and business insurance.
To learn more about how we can help your organization and thermal mapping projects, please contact us or connect with us on LinkedIn.
---
*FLIR is a trademark of FLIR Systems, Inc.